The Change in the Secondary 1 Chinese Syllabus is Extensive. Is Your Child Fully Prepared?
Did you know that your child's Sec 1 Chinese syllabus has undergone extensive changes?
The transition to Secondary 1's Chinese is extremely complex and can pose a challenge to many. Your child will be the first batch of students to undergo the syllabus change and without the right guidance, your child is at risk of having poor grades in school or a weak foundation in Secondary Chinese! Unsure of what's to come next with this change? We're broken down the main differences between the OLD and NEW syllabus to provide you with strong insights of what's to come for your child.
What are the Key Changes for the Sec 1 Syllabus?
Don't overlook the major changes in the syllabus! Our teachers have done our research so here's a quick summary of the differences:
How does this Affect Your Child?
As there are drastic changes to the syllabus, we understand many parents are concerned on the impact of your child.
Uncertainty in test formats & scope of study  As the new textbook has only been officially released in January, there are also no assessment books or reference materials to prepare your child for the upcoming scope of study. This means that it will be a great challenge for many tutors as they will not have any Sec 1 Chinese teaching materials from this year onwards. Without the supporting materials, tutors will not be able to provide your child with additional support to increase your child's exam success.
Not all teachers are able to pinpoint the concepts behind the new textbooks accurately  With lesser content available in the new textbooks, mediocre teachers will find it difficult to teach and may not be 100% prepared to take on the new syllabus with effective teaching methods. This is essentially a test of the teachers' abilities to curate their curriculum to adapt to the new syllabus, especially for Chinese home tutors.
Increase the risk of having a weak foundation in Secondary Chinese  Is your child still doing 听写 or just learning vocabulary? If so, your child currently lacks adequate guidance to transit into the new syllabus. Since many students may not be accustomed to the latest scope of study, it can potentially jeopardise your child's grades and lead to long term adverse effects such as:
Plunge in exam confidence

Snowballing of undesirable Chinese grades till Upper Secondary

Be at a disadvantageous position as he/she will be unable to take Higher Chinese in Sec 2 or 3
How can XueLin help your child tide over Secondary 1 Chinese?
#1 Our teaching materials reflect MOE's new syllabus accurately
XueLin is the only Chinese tuition centre in Singapore that has an accuracy rate of 90% when it comes to predicting national exam questions.
Having gone through a few syllabus changes, our teachers are extremely experienced and know how to adapt it to XueLin's curricular accordingly. With our in-house designed papers that are accurate representations of top schools and national examinations, your child will be able to sit for numerous mock exams and be exceedingly prepared for their school papers.
#2 Our curriculum is designed to encourage your child to study Higher Chinese 
Since there are marginal differences in textbook content for Express Chinese and Higher Chinese, our curriculum for both Sec 1 streams are extremely similar and includes an assortment of higher order questions. We want to build an inquisitive mind in every child and challenge them to either continue or opt for Higher Chinese in Sec 2 or Sec 3. So, why should your child study Higher Chinese if his/her ultimate goal is to enter a JC?
Exempted from Chinese for 'A' Levels examinations – This leaves your child more time to focus on other critical/weaker subjects.

Potential to gain an additional 2 marks to enhance 'A' Levels grades – Your child's 'O' Levels Higher Chinese grades can be brought over to the overall results of the next national examination, which may prove to be useful when selecting specific University courses
#3 Our classes focus on a bite-size teaching approach for better learning
Equipped with strong teaching expertise, our teachers have the know-how of tackling and designing the curriculum for the new syllabus. Having designed an effective curriculum to undertake the new syllabus, your child's Sec 1 Chinese foundation is safe in our hands and to stay ahead in their schools.
Our Stellar Track Record of Secondary Students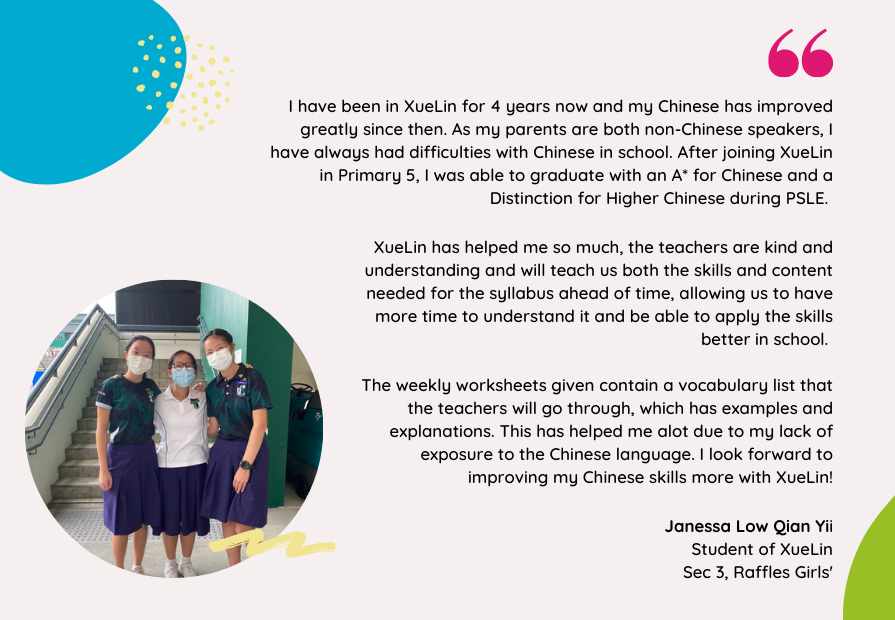 Our Sec 1 student, Qi Xuan, from Methodist Girls' School has recently scored FULL MARKS for her common tests in school. Embarking on her Sec 1 journey with XueLin has equipped her with the right guidance to build exam confidence and do well in school.